Innovation exchange in Kujawsko-Pomorskie – EmpInno partners share their expertise on food industries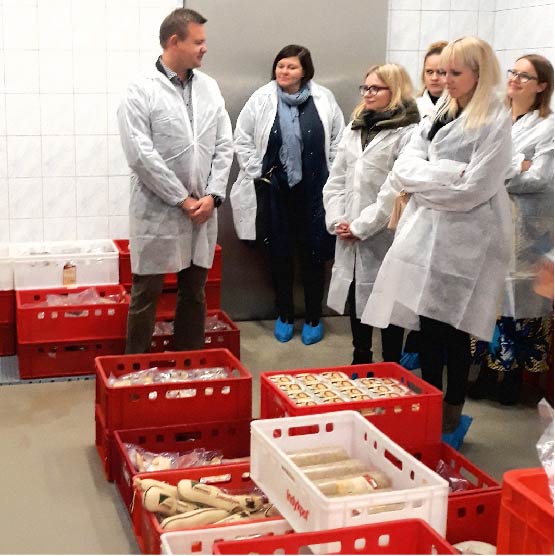 On the 14-15 November 2018, the Marshal Office of the Kujawsko-Pomorskie Voivodeship organised a delegation trip for EmpInno partners and stakeholders to the Kujawsko Pomorskie Region, Poland. The agenda provided a combination of several visits to innovative companies in the region and of participating as experts in the Fifth European Congress of Agribusiness Managers in Łysomice.
During the first day, the participants visited a series of companies active in the food industry sector and considered as innovative food producers and/or marketer of high-quality and healthy food products. Beside the possibility to learn about specific products or innovative production and marketing processes, EmpInno partners had the chance to exchange visions and ideas of how entrepreneurs can be part of regional innovation transfer and strategies. A practical example of how innovation transfer can be organised between academic institutions and entrepreneurs was given by the University of Science and Technology in Bydgoszcz (UTP).
On the second day, EmpInno partners and stakeholders participated in the Fifth European Congress of Agribusiness Managers in Łysomice. The Congress is a two-day event for representatives of various enterprises in plant and animal production business, representatives of the agri-food processing sector and individual farmers. Beside being a stage for current trends in agriculture, production techniques and processes, the Congress also serves as a platform for innovation and knowledge transfer from the scientific community to the agricultural producers and entrepreneurs. Thereby, food security or environmental protection are among the topics that are transferred and discussed. EmpInno partners contributed by presenting good practices of innovative solutions for producers and farms based on the transnational exchange within the EmpInno partnership.
See related news