Innovation Forum Lubelskie – Healthy Food in Regional Quality of Life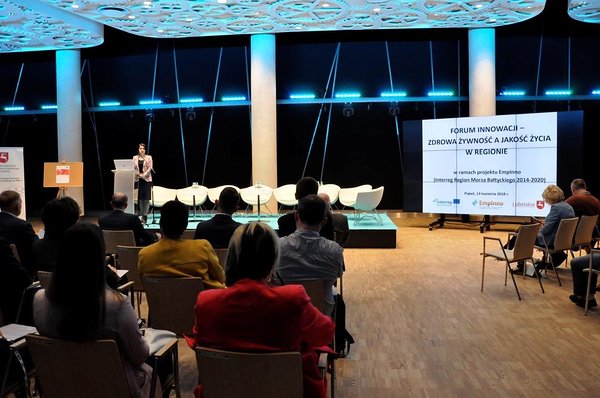 On 13th April 2018, the Marshal Office of the Lubelskie Voivodeship organised a regional INNOVATION FORUM with the title "Healthy Food in Regional Quality of Life". The meeting was conducted by the Lublin Centre for Research on Innovativeness as part of the EmpInno project and included 65 representatives of both companies and research units. Two working groups (food and health) formed within the Council for Innovation in the system for the RIS LV 2020. Their main task is to create recommendations and development plans for specific topics for the Board of the Region. Specifically, it is important to determine in which direction the development of healthy food and quality of life should go. Choosing the two topics of the Forum is not accidental, because innovations are born at the intersection of various specialisations and sectors. A one-way approach does not guarantee that specialisations will be developed.
Dorota Skwarek, the Deputy Director of Department of Economy and Foreign Cooperation at the Marshal Office of the Lubelskie Voivodeship in Lublin, presented the tools to support the implementation of the above topics within international projects implemented by the Lublin Centre for Research on Innovativeness (including SmartWatch, Elise and EmpInno). She underlined the membership of the region in ERRIN and ERIAFF network (as an observer). The meeting is an inspiration for further actions, a starting topic for further meetings. Subsequent speakers characterised the EIT FOOD Community and AgroBioCluster. They also presented trends and dietary directions in the world, discussed the impact of proper diet on human health and its role in treating many ailments. Emphasis was placed on the importance of innovations in the food sector. Furthermore, the definitions of functional food and organic farming were discussed.
In the second part of the meeting panelists discussed the possibilities of cooperation between science and business. They also pointed at the challenges and legal restrictions that producers must face. The growing demand of regional customers on organic food and consumers' eating habits were mentioned. The panel also discussed the biodiversity of the region based on knowledge, potential, practice and natural resources. At the end of the INNOVATION FORUM the participants had the opportunity to talk, exchange knowledge, experience and contacts during a networking lunch.

See related news